Last month in our May Newsletter, we received a question submission from a reader and thought what a productive topic to explore- Is aluminum wiring a safety hazard?
"I have aluminum wiring in my home, I know this can be a fire hazard.  What I am wondering is, is there danger when the light or appliance or whatever is turned off or does it have to be turned on to start a fire or spark? Thanks in advance."
Great question!
While some aluminum wiring is a safety hazard, you are not in danger of fire unless there is an electrical draw on the circuit. Most likely if your appliance or light is turned off, it will not draw on the circuit. However, it is important to determine first that  your circuits are functioning as expected and the way you want. CIE S offers a 10-point electrical evaluation that will uncover deficiencies and offer solutions to our findings.
One of our first recommended solutions is an upgraded electrical panel. This is one of the best ways to make sure your electrical circuits are protected by modern electrical breakers. Some older electrical panels are quite dangerous and do not function like they should; whether due to technology that just did not work correctly to begin with or the aging of your equipment.
A second way to protect your home is to pigtail your existing aluminum wire to copper wiring. This involves joining a short section of copper wire with the aluminum wire using approved connectors or devices designed for copper-aluminum connections. The pigtail can then be safely connected to switches, outlets, or other devices. This will eliminate aluminum wiring connected directly to devices, which is one of the most common places of electrical failure.
Contact Your Colorado Electrician with any further questions or set up an appointment to look at your full electrical system.
This Summer we are celebrating electrical safety with our Summer of Safety Special. Check it out below!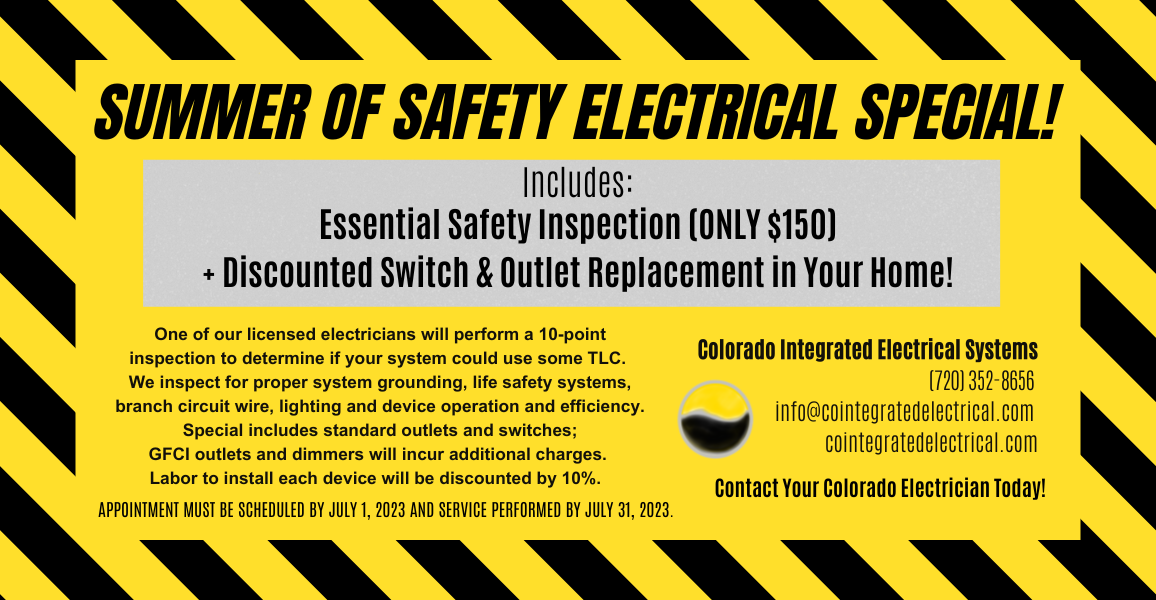 More Posts You May Find Interesting